Want to get out on a 29er?
The 29er fleet trains regionally, primarily in 'squads', with a fleet totalling approximately 40 racing actively in Canada today, and about 80 in North America overall.
We can connect you with 29er squads in your region to get started.
Contact us at 29ercanada@gmail.com and we'll connect you to your local rep.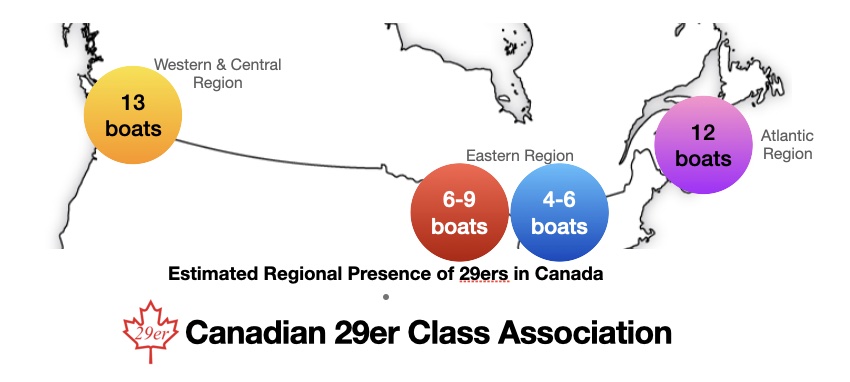 The Canadian 29er Class Executive is comprised of volunteers and coaches from each Region in Canada.
WEST (BC):
Regional Rep | Sue Dyson
Regional Coach Rep | Steve McBride
CENTRAL (AB, SK, MB):
Regional Rep | Brianna Brand
Regional Coach Rep | Charles Peddlesden
EAST (ON, QC):
Regional Rep | Jillian Ruch
Regional Coach Rep | Federico Donzino (ON), Audrey Staples (QC)
ATLANTIC (NB, NS, PEI, NFLD):
Regional Rep | Kate Therien
Regional Coach Rep | Stephen Waldie
President: Ruby Patrickson
Secretary / Treasurer: Jill Amery
Builder Representative: Trevor Parekh
Contact
For more information and general inquiries, please contact:
Address:
640 King Street West, Kingston, Ontario, K7M2E0
29er Parts? Contact our Builder Rep @ 49er.ca